To his academic job, Audissino adds a past background as a film-maker and screenwriter. He realized his first screening when he was fourteen. Having gotten hold of his first video camera at ten, filmmaker and scholar Emilio Audissino spent most of his spare time as a young kid in Italy writing stories for the screen and experimenting with documentary and fiction film. By the time high school rolled around, he had convinced his teachers to replace the annual school play with his feature film, Gulper about a socially engaged, benign ghost who helps a trio of challenged teenage students overcome their academic, social, and emotional problems. The 85-minute film was screened publicly in June 1995, in his hometown of Imperia, Italy.
In 1996 he produced another student feature-length film, L'ospite misterioso [The Mysterious Host], another ghost-tinged comedy about two friends renting a summer house that they soon discover is haunted. In 1997 he produced the dystopic short Solo ["Alone" – no affiliation with the Star Wars franchise], shot in b/w with digitally-coloured details; it recounts the story of a single man who wakes up to discover everybody else has disappeared, leaving an eerie empty town and no explanation whatsoever of what had happened. In the same year, he also shot the drama short Omega, the story of a guy who finds a magical diary where his future is already written in mercilessly revelatory details. Taking part in school-plays in high-school as well, in 1998 he produced another student-film with the collaboration of his fellow schoolmates. The 90-minute sci-fi thriller CHR – a story where Ten Little Indians meets The Terminator and Frankenstein; it was publicly screened in December 1998.
At university, Audissino returned to his love for comedy, in 2001, writing, producing, and directing the student feature-length Il club degli scapoli [The Bachelors' Club], a homage to classic Hollywood screwball comedies. He also began working as a freelance film maker, receiving commissions for commercials, music videos, documentaries and corporate videos, and he collaborated as a production assistant for film and TV production companies in Milan.
In 2004, he received the commission to adapt the bitter-sweet novella Controvento by Ino Gazo into a short film: Davanti al mare [At Sea]. He wrote the adaptation, co-produced, wrote the music, and directed the short – a blend of The Old Man and the Sea and Ghost – which premiered in September at the Genoa Film Festival.
In 2007, the Cultural Association "Ergo Sum" commissioned the production of a screen adaptation of the comedy/noir novella La dolce Eleonora e l'amaro calice [Sweet Eleonora and the Bitter Cup], by author and journalist Marco Vallarino. With "Ergo Sum" producing, Vallarino and Audissino collaborated on the screenplay, and Audissino directed and composed the musical score for the 30-minute dark comedy. It premiered that September at the Cinema Centrale in Imperia, an amply advertised public event, and was then screened at the Rome Independent Film Festival (RIFF). The film magazine "Primafila" reviewed the film in its October issue:
"Alternating comedic and horror moments, Emilio Audissino delivers consistent and effective storytelling and mise-en-scene, staging the conflict, suggested in the film's title, between what one has and what one desires…"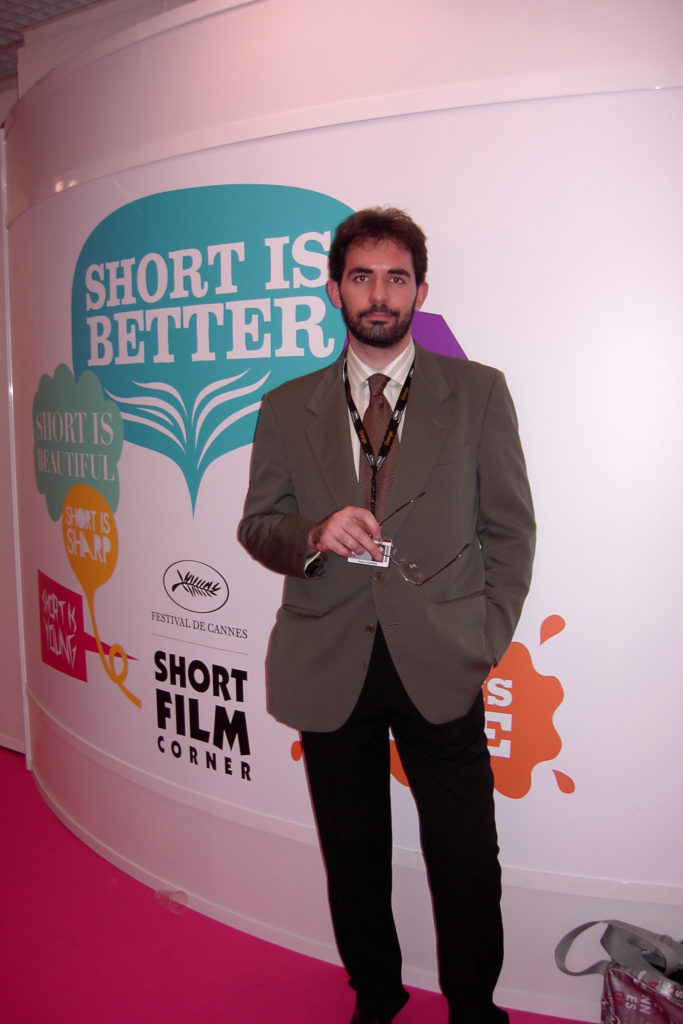 On a bet, in 2008, Audissino shot the short film Yoshiwara Club, creating a new story around some discarded dance club footage from his previous film. The 10-minute, no-dialogue short (consisting of 30% recycled footage and costing only 100 Euros in cash) received an unexpected worldwide distribution, having been selected for the "Short Film Corner" of the 61st edition of the Cannes Film Festival. It was subsequently screened at other festivals including the "Genoa Film Festival" (Italy), the "TOHORROR Film Festival" (Turin, Italy), the "Joe D'Amato Horror Film Festival" (Lucca, Italy), the "ShockerFest" (Modesto, CA, USA) and the "Spooky Movie Festival" (Washington DC, USA). The horror-themed online magazine "Through the Black Hole" wrote:
"If the scope was that of not being banal, the result has been achieved. Noteworthy are the good directorial choices, also the well-executed editing, cared for by the director himself, which reveal an excellent talent supported by original ideas. We are looking forward to a bigger-budget product which may allow Audissino to apply his potential in full stride."
As a film scholar, Emilio Audissino has published extensively on Hollywood cinema, film analysis, horror, comedy, and film music, becoming an internationally renowned essayist, particularly for his work on the Hollywood composer John Williams. He is the author of John Williams's Film Music (University of Wisconsin Press, 2014), the first book in English on the famed composer. All his publications typically complement the academic side with a practice-oriented perspective.
Since balancing his filmmaking with his academic career, Audissino has collaborated with Marco Vallarino and Pierluigi Voi on the creation and development of the romance/crime TV series Blu Riviera – whose pre-production was halted indefinitely by the Covid-19 pandemic. In 2018, he put together some of his favourite ingredients – ghost stories, film noir, dark comedy, jazz – to create the one-hour pilot and bible for the comedy/horror TV series The Dead Won't Shut Up! [a.k.a. Mourning Routine], the winner of "Best TV Pilot" at the 2019 "West Field Screenwriting Awards". The reader's report from the "Los Angeles Comedy Film & Screenplay Festival" wrote:
"While there are other supernatural investigative shows currently on the market, the writer has found himself a unique little niche with this concept by setting it in the 1930s against the sexist backdrop of the police force. The script begins with a bang, immediately setting up Nick's character and letting the reader know what she is up against. Although the script is humorous, it is also equal parts scary, easily appealing to a wide range of audience. […] Cal was another great character. Not only was he a worthy sidekick in Nick's newfound business endeavours, he also provided the comedic levity that spruced up every scene he appeared in."
---