a.k.a. Mourning Routine
ONE-HOUR TV SERIES PROJECT
Created and developed by Emilio Audissino
Nicolette "Nick" Sharpstein is a brilliant young woman with a dream: to become a Homicide Detective, but her progression in the 1930s NYPD is hindered by prejudice. Exasperated, she resigns and gets a P. I. license. But the private sector is similarly sexist. Until the day Nick finds out that she has the gift of seeing ghosts, and decides to apply her investigative talents to the paranormal – with the (unsolicited) assistance of Cal Benedetto, the ghost of a 1920s Italian-American bootlegger, and the advice of her father, Dr. Samuel Sharpstein, a Religious Studies scholar at Columbia. Specifically, clients seek Nick to investigate the reason why a particular spirit has not yet crossed over into the afterlife, and to devise a solution to the problem. No séances, magic, or proton guns: just astute investigative work. Teaser from the Pilot Script: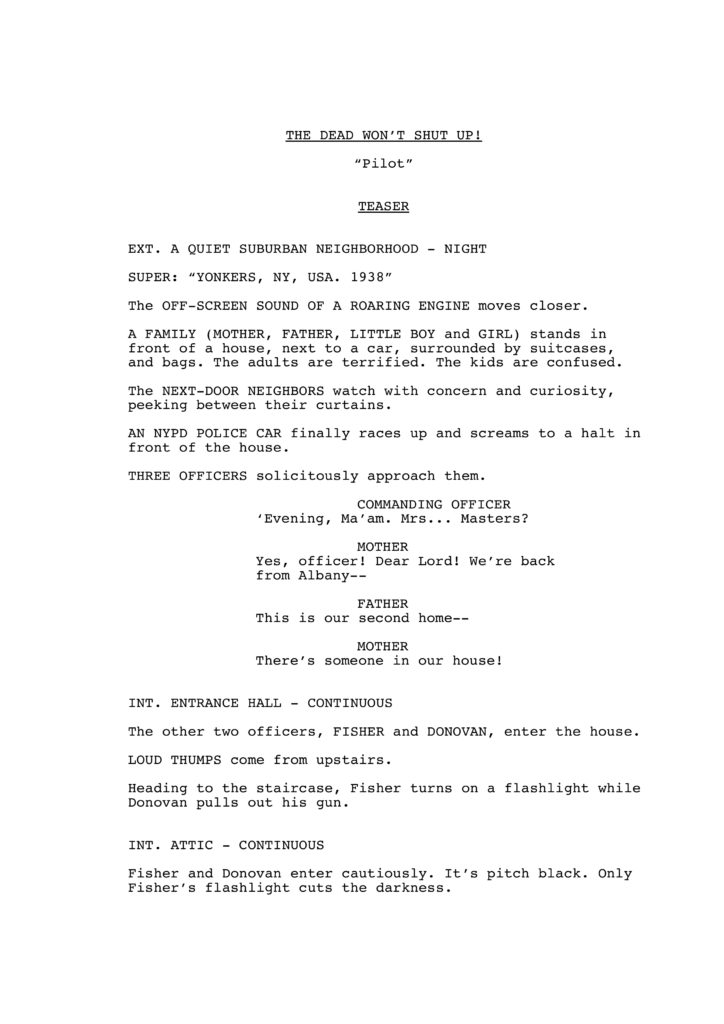 AUTHOR'S NOTE:
In 2017 I was impressed by the presence of a conspicuous number of supernatural-themed TV shows that mixed horror and comedy: I-Zombie, Lucifer, Santa Clarita Diet… – types of shows that I enjoy quite much. I was also busy studying serial narration in television script-writing. Finally, I was also in the middle of binge-watching the sitcom Two Broke Girls. As regards the latter, I was mesmerised by Kat Dennings and her talent and, as I progressed in my perusal of the show, I got increasingly convinced that in that show Ms Dennings's skills in both drama and comedy were flattened to a farce-led monotony and were undervalued.
The convergence of all the circumstances above resulted in my decision to embark on a practical exercise in writing for television. I tasked myself with the writing of the pilot for a TV series. Said TV series must: 1. Be in the supernatural, comedy/horror genre-bender territories; 2. Be a period piece, which would require the extra challenge of historically accurate preliminary research; 3. Blend two of my favourites: the British ghost story genre and the American hard-boiled detective genre; 4. Be expressly written for Kat Dennings in the leading role. What was supposed to be merely an academic exercise to apply theory to practice ended up meeting some success in the festival circuits. Regretfully, Ms Dennings never got to read it — I would have appreciated to hear what she might thing of it.
Instead of keeping it on the shelf to collect dust – since I don't see it coming to the screen any soon – below I offer the script of the pilot episode, as well as a dossier including the premise, the character bios, and the springboards for the following episodes of the first season.
ALL MATERIALS:
Copyright: Emilio Audissino 2019
Deposited: WGAw 1949848 / #2003668
Copyright Registered: US Copyright Office, PAu003942707 / PAu003983840
All Rights Reserved.
---
---
"La Stampa", 3 September 2019